News and Events
Contact Us

SINOLIFT MATERIAL HANDLING EQUIPMENT CORP.
Add:No. 2471-2477 Dachuan Road, Nanhui Industry park, Pudong new District, Shanghai, P.R.China 201314.
Tel:021-68014500 58003681
Fax:021-68014262
Email:sales@sinolift.com
Website:www.sinolift.com
Contact Person:Mr. David deng
Mobile:0086-13817572420
Skype:sinolift
23rd May, News about shipment to North American
Author:Jessie Weng Post Time:2019-5-20 Hits:3729
23rd-May News about shipment to North American
Sinoliftequipment Co.ltd:
SINOLIFT Material Handling Equipment Co.,Ltd is a manufacturer and exporter of logistic equipment in China, we specialize in complete modern logistics solutions for material workshop, warehouse and supermarket etc., covering forklift, pallet truck, pallet stackers, pallet tilter,pallet inverter, roll lift, roll rotator, table lift, aerial work platform, drum handling equipment, transport vehicles and Stainless steel products etc.
For the continual investment and development, we have owned a complete line of advanced equipment and mature produce craft as well as a strictly system to guarantee quality. With many years accumulation of experience and knowledge ,we have formed a professional team in designing and manufacturing logistic product. In additional, Standardization and seriation of basic components ensured the stable quality and prompt delivery. Most of our products are exported to USA, Japan and European Countries.
Contact number: 86-021-58003681, company website: www.sinolift.com
CPD-10F mini electric forklift
The CPD-10F is a three-wheels mini electric forklift designed for small spaces. It is small and beautiful in appearance, affordable, safe and convenient to operate. It is a hot product of Sinolift company.
*The turning radius is only 1140mm, low noise, no pollution
*Excited drive and control technology with regenerative braking and "slope suppression"
*Advanced MOSFET control system for precise and smooth operation of the forklift
*Hydraulic power steering system makes operation lighter and quieter
*Rugged overhead guard to keep operator safe.
*Comfortable and safe operating handle.
*Standard design, clear vision, although the space is compact, the operator is convenient to get in and out.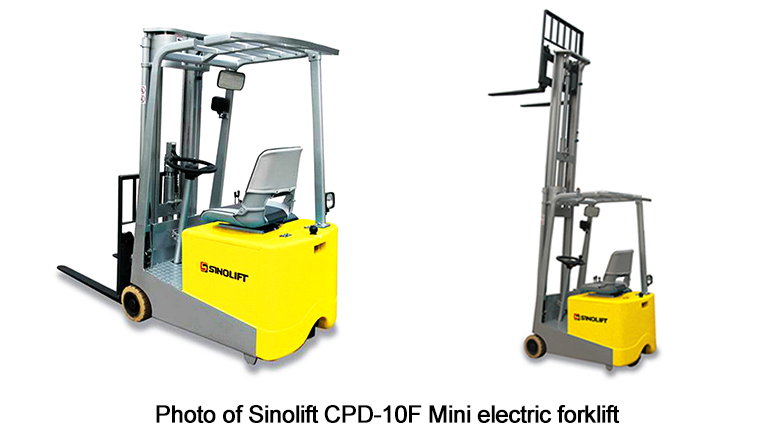 Advantages :
The compact size is an advantage of the indoor narrow-aisle operation that some four-wheeled forklifts do not have, and the price is quite cheap.
Sitting driving operation mode is more comfortable,and more convenient than that of the ordinary stand-on platform driving type stacker.
This mini forklift completely beat ordinary stacker in Work efficiency, operational safety, stability, and comfort.
Marketof CPD-10F mini forklift
This mini electric forklift has been sold to countries all over the world. It is especially popular among consumers in India and the United States. On May 13, 2019, we have just completed the shipment of 20 forklift trucks which sold to EZG MANUFACTURING from USA. The color and the height of the mast are customized according to the requirements of the client. Although in my personal opinion the color of our standard product looks much better than the customized color of EZG, the customized CPD-10F mini forklift is very popular among American consumers.According to EZG MANUFACTURING feedback that these 20 units have been pre-sold. New purchase orders are in the pipeline.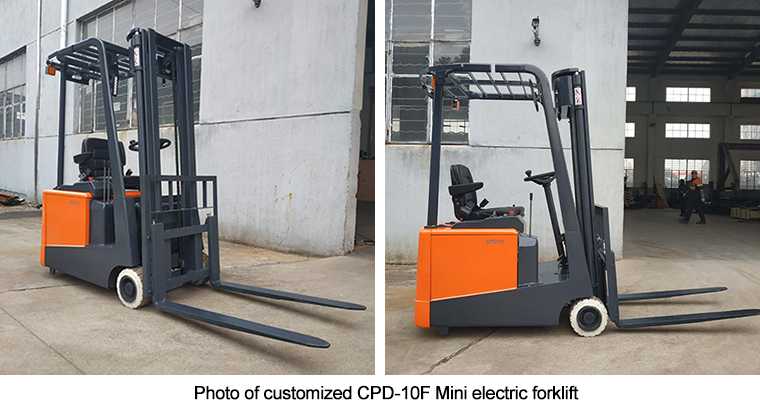 Packaging of CPD10-F mini forklift:
Usually, the forklift export packaging are all bare. In the past our whole container shipments are usually nude cargo, since this product is favored by the market at present, we cherish more than ever the quality of our products. To prevent damage to the goods during transportation,we have strengthened the packaging of the forklifts, and now the forklifts are packed on pallet and wrapped in bubble bags:

Loading container:
Let's see the scene of serious and busy workers loading container on-site, through the rigorous calculations, carefully placed, the two 20-foot containers are full loaded, almost no waste of any space:

Compared with the seriousness of the loading workers, our production manager and our partner client are a friendly and relaxed atmosphere. They set a very good example of close cooperation between production and sales, the joy of completing the cooperation is fully displayed under their relaxed and happy facial expression:

Using the CPD-10F loading container on the spot, in addition to exclaiming the driving skills of the forklift driver, I have to admire the practicality of our forklift CPD10-F, light and easy to operate! Run fast when it is unload! Run stably when it is loaded,operator feel safe and relaxed when operating: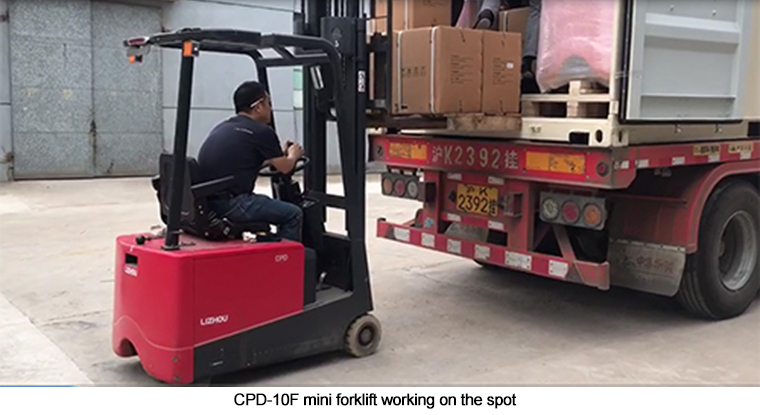 In just two hours, in the busy schedule of the workers, the two container were easily and fully loaded. When the trailer-truck driver sealed the container and slowly drove the trailer-truck out of our factory gate, our mood was full of joy!


God will favor those who work hard. Our hard work today will make our products better and better, will brings us business from all over the world, and usher in a bright future for the company and our employees.
Welcome to Sinolift
Tell:021-58003681
Mail:service@sinolift.com