News and Events
Contact Us

SINOLIFT MATERIAL HANDLING EQUIPMENT CORP.
Add:No. 2471-2477 Dachuan Road, Nanhui Industry park, Pudong new District, Shanghai, P.R.China 201314.
Tel:021-68014500 58003681
Fax:021-68014262
Email:sales@sinolift.com
Website:www.sinolift.com
Contact Person:Mr. David deng
Mobile:0086-13817572420
Skype:sinolift
Hand Pallet Jacks to Iran Customer in SKD Type
Author:Iris Post Time:2023-3-1 Hits:114
We have delivered several hand pallet jacks to Iran customer in SKD type. SKD is a kit that consists of partially assembled parts of a hand pallet jack. This service consists of disassembling and packaging certain parts of the vehicle for shipment to other assembly plants, where they are then reassembled.
Hand pallet Jack can be separated into 4 parts: handle, hydraulic pump, wheels, forks. The hydraulic pump is at the bottom of the handle. While the handle controls the height of the forks, the hydraulic pump provides the lift that allows these movements to occur.
The handle of the pump is located near the front of the vehicle. It controls the wheels and allows you to steer the vehicle to the left or right. On an electric pallet jack, you can also twist the controls on the handle to move the truck backward or forward.
The forks are the main body of the pallet jack. They rest on the load wheels and are supported at the bottom by a hydraulic pump and steering wheels. A standard jack is equipped with two forks to hold the pallet. The steering wheels are located underneath the handle, the control lever and the hydraulic pump. They are controlled by the handle and allow you to steer the vehicle while driving it.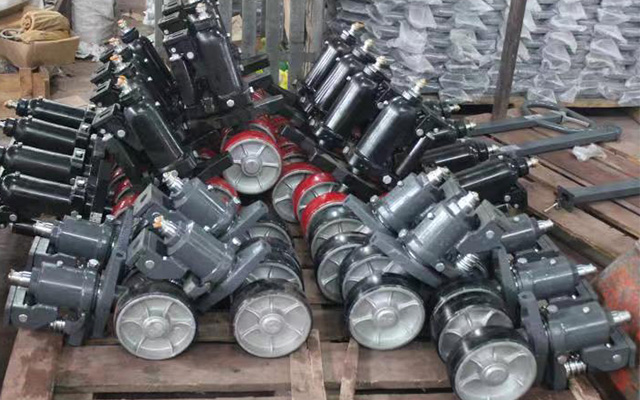 There are two steering wheels on the pallet truck. They can be made of polyurethane tread with nylon hubs, super poly tread with aluminum hubs, solid nylon or solid steel. The load wheels are located underneath the pallet forks. They are also called load rollers and help you put the load into the forks to make loading and unloading easier. Depending on the pallet truck, there may be two to four load wheels.
If you want to hand pallet truck in SKD, please contact us. We will give you the best price for it. WhatsApp: 13918731490.