News and Events
Contact Us

SINOLIFT MATERIAL HANDLING EQUIPMENT CORP.
Add:No. 2471-2477 Dachuan Road, Nanhui Industry park, Pudong new District, Shanghai, P.R.China 201314.
Tel:021-68014500 58003681
Fax:021-68014262
Email:sales@sinolift.com
Website:www.sinolift.com
Contact Person:Mr. David deng
Mobile:0086-13817572420
Skype:sinolift
Innovative Roll Lifting Equipment with rotate platform
Author:Iris Post Time:2023-1-30 Hits:395
At SINOLIFT we welcome all needs for roll lifting equipment - be that needs for standard reel lifting or more complex roll handling.
Industrial roll handling and lifting is one of our primary specialties and our customers' needs for reel lifters are as varied as the industries from which they come - and we are very happy to meet them all.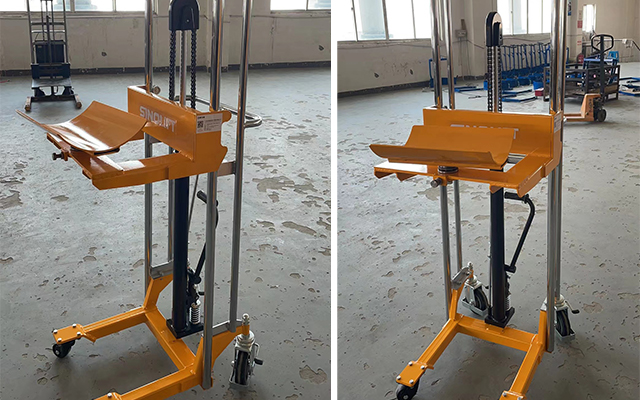 This manual hydraulic stacker is equipped with spring rotate platform. For through-shaft applications where manual lifting and turning are needed, the platform and rotation unit are ideal. The reel can be lifted and turned to core-horizontal position, where after the shaft can be placed in the core of the reel. Then you can place the reel and turn the reel to the right angle. It is more flexible than standard manual hydraulic stacker. Finally, using the roll lifter, the reel and shaft can be placed where needed.
Our roll lifting equipment is designed to increase work flow efficiency while at the same time prevent work injuries and sustain optimal human ergonomic health. The human force limits for push and pull factors are carefully analyzed and built into the lifter design, so that manual mechanical usage will never put damaging strain on the body.
We are experienced specialists in customized roll handling solutions. If you need any help or have any question, please don't hesitate to contact us by e-mail: sales@sinolift.com.