Contact Us

SINOLIFT MATERIAL HANDLING EQUIPMENT CORP.
Tel:4006-021-510
Tel:021-60513948
021-58180613
Mobile:0086-13817572420
Fax:021-68014262
Add.:No. 2471-2477 Dachuan Road, Nanhui Industry park, Pudong new District, Shanghai, P.R.China 201314.
Name:L Series 4-5T LPG Forklift
Model:4-5T
Product Introduction:The latest appearance design method was used to create the R series fluent and aesthetic outline, which matches the latest appearance trend.
Appearance
The latest appearance design method was used to create the R series fluent and aesthetic outline, which matches the latest appearance trend.
Efficiency
Thanks to the long wheelbase design, the longitudinal stability of whole truck is much better, the hoisting capacity at same lift height are enhanced by an average of 100KG compared with former truck. At the same time, it prolongs work time of rear wheel as the reduced rear axle's load.
The travel speed of truck has been raised, for example, the 2-2.5T type comes to 20km/h.
Service
Dual air spring supporting hood and one-touch removal of the floorboard get you right to service operations, and reduces down-time.
The reasonable arrangement of fuse and installation of instrument, enable the replacing for fuse and maintenance for instrument easier.
Clean
The environment friendly engines all meet EU stage-2 emission control regulation. The noise emission also comes to EU standard.
The metal hood and molding sound insulation matches environmental protection demands.
Safe
A throttling device is set in pipe system,the mast won't result in failing control of mast even some pipes broke.
By using a built-in hood lock device, the safe level of the truck has been raised.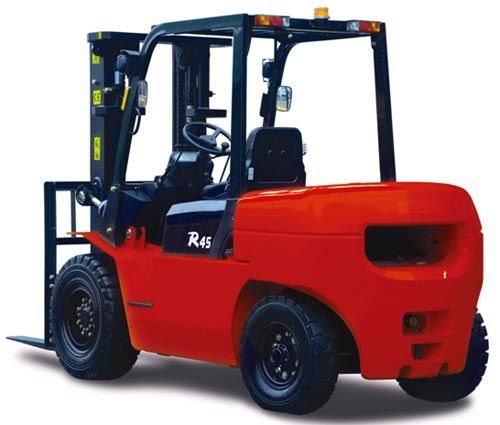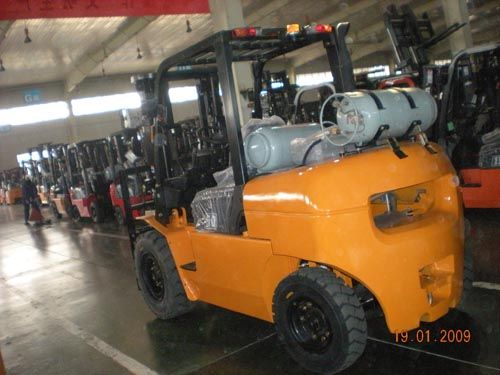 General
Manufacture
SINOLIFT 4.0-5.0T LPG Forklift Specifications
Basic model
CPYD40-GM
CPYD45-GM
CPYD50-GM
Type
RW17-Y
RW17-Y
RXW17-Y
Power type
LPG
LPG
LPG
Rated capacity
Kg
4000
4500
5000
Load center
mm
500
500
500
Dimensions
Lift height
mm
3000
3000
3000
Free lift height
mm
160
160
160
Fork size
L×W×T
mm
1070×150×50
1070×150×50
1070×150×55
Mast tilt range
F/R
deg
6/12
6/12
6/12
Fork overhang(Wheel center to fork face)
mm
550
550
550
Rear overhang
mm
520
560
560
Overall
Length to face of fork
mm
3070
3110
3215
dimensions
Overall width
mm
1395
1395
1490
Mast lowered height
mm
2245
2245
2395
Mast extended height
mm
4175
4170
4320
Overhead guard height
mm
2250
2250
2250
Turning radius(outside)
mm
2690
2720
2810
Min. right angle stacking aisle width
mm
3240
3270
3360
(Add load length and clearance)
Performance
Speed
Travel(no load )
Km/h
26
26
26
Lifting(Full load)
mm/sec
460
460
400
Lowering(Full load)
mm/sec
500
500
500
Max. Drawbar Pull(Full load)
N
39300
39300
39300
Max. gradeability(Full load)
%
20
20
20
Wheels&tires
Tyres
Front
8.25-15-14PR
300-15-14PR
300-15-14PR
Rear
7.00-12-12PR
7.00-12-12PR
7.00-12-12PR
Tread
Front
mm
1160
1190
1190
Rear
mm
1130
1130
1130
Wheelbase
mm
2000
2000
2100
Ground clearance
Lowest
mm
170
170
170
Wheelbase center
mm
230
230
230
Weight
Self weight
Kg
6300
6500
6600
Weight Distribution
Full load
Front/Rear
Kg
9000/1300
9625/1375
10125/1475
No load
Front/Rear
Kg
2800/3500
2820/3680
2820/3780
Power&transmission
Battery
Voltage/Capacity(20HR)
12/70/20H
12/70/20H
12/70/20H
Engine
Engine Name Code
GM
GM
GM
Model
GM4.3L
GM4.3L
GM4.3L
Manufacture
V/AH
GM
GM
GM
Rated output/r.p.m.
kw
74/2300
74/2300
74/2300
Rated torque/r.p.m.
301/1600
301/1600
301/1600
No. of cylinder
6
6
6
Bore×Stroke
mm
102×88
102×88
102×88
Displacement
cc
4294
4294
4294
Fuel tank capacity
L
40
40
40
Transmissions
Manufacture
CHINA
CHINA
CHINA
Type
Powershift
Powershift
Powershift
Stage
FWD/RVS
2/1
2/1
2/1
Operating pressure
For attachments
MPa
18
18
18
Remark:
1. Special lifting height available.
2. Attachment available.
3. The specification in the table are for standard models only . For further information ,please contact us.