News and Events
Contact Us

SINOLIFT MATERIAL HANDLING EQUIPMENT CORP.
Add:No. 2471-2477 Dachuan Road, Nanhui Industry park, Pudong new District, Shanghai, P.R.China 201314.
Tel:021-68014500 58003681
Fax:021-68014262
Email:sales@sinolift.com
Website:www.sinolift.com
Contact Person:Mr. David deng
Mobile:0086-13817572420
Skype:sinolift
Operation method and precautions of stacking truck
Author:sinoliften Post Time:2019-3-30 Hits:3015
As the name suggests, "stacking truck" is used for stacking items. It talks about all kinds of wheeled transport vehicles for loading and unloading, stacking, stacking and short distance transportation of finished pallets. It can also be called miniature electric forklift.The truck can be subdivided into manual truck, electric truck and semi - electric truck.Today, Sinolift will give you a brief introduction on how to correctly operate the stacking truck and matters needing attention:

1, Driving
Check the working condition of brake and pump station before driving and make sure the battery is fully charged.Hold the control handle with both hands and force the vehicle to move slowly towards the working cargo. If you want to stop, you can use the hand brake or foot brake to stop the vehicle.
2, The unloading
(1) When the fork is low, keep it perpendicular to the shelf, approach the shelf carefully and insert it into the bottom of the pallet;
(2) Return the palletizer and ask the fork to move the tray;
(3) Lift the fork to the required height and slowly move to the unloading tray, while ensuring that the fork is easy to enter the pallet and the goods are in the safe position of the fork;
(4) Lift the fork until the pallet is lifted from the shelf;
(5) Slowly retreat in the passage;
(6) Slowly lower the goods and ensure that the forks do not touch obstacles in the process of lowering;
Caution: steering and braking must be done slowly and carefully during cargo lift.
3, Stacking
(1) Keep the goods low and close to the shelves carefully;
(2) Lift the goods above the shelf surface;
(3) Slowly move forward, stop when the goods are above the shelf, put down the pallet at this point and pay attention to the fork not to the shelf under the goods, to ensure that the goods are in a safe position;
(4) Slowly back and ensure the pallet in a secure position;
(5) Lower the fork to the position where the stacking truck can run.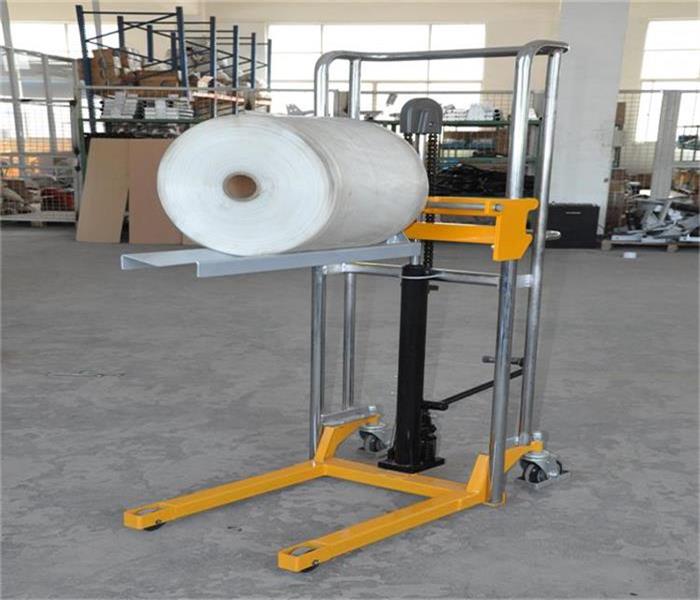 4. Safety facilities
(1) Main switch: power supply main switch;
(2) Foot brake: reliable parking brake;
(3) Limiting valve: control the falling speed;
(4) Pressure limiting valve: control load;
(5) Protective net: protect the driver;
5. Prohibited matters
(1) It is prohibited to operate semi-electric stacking truck after drinking;
(2) Overload, uneven and even stacking of goods are prohibited;
(3) It is forbidden to cross the operation;
(4) Do not park on ramps or steps.