News and Events
Contact Us

SINOLIFT MATERIAL HANDLING EQUIPMENT CORP.
Add:No. 2471-2477 Dachuan Road, Nanhui Industry park, Pudong new District, Shanghai, P.R.China 201314.
Tel:021-68014500 58003681
Fax:021-68014262
Email:sales@sinolift.com
Website:www.sinolift.com
Contact Person:Mr. David deng
Mobile:0086-13817572420
Skype:sinolift
Electric Lift Crane Hook
Author:Iris Post Time:2023-1-31 Hits:249
Electric Lift Crane Hook
A battery powered-lifting trolley which is sturdy, extremely maneuverable and provides lifting solutions for almost any application.
Several accessories available:
Load roller platform

Ball transfer platform

Container holder

Reel mandrel

Platform V-cradle

Reel rotator

Twin mandrel

Jib arm with lifting hook

Weighing system (in option)
Rolling lifting hooks can transport large mill rolls when the lower member is inserted into the core of the roll. Core rolling lifting hooks feature ergonomic designs that provide efficiency, durability and safety, hooks come in a variety of configurations to permit the greatest utility in all roll handling operations.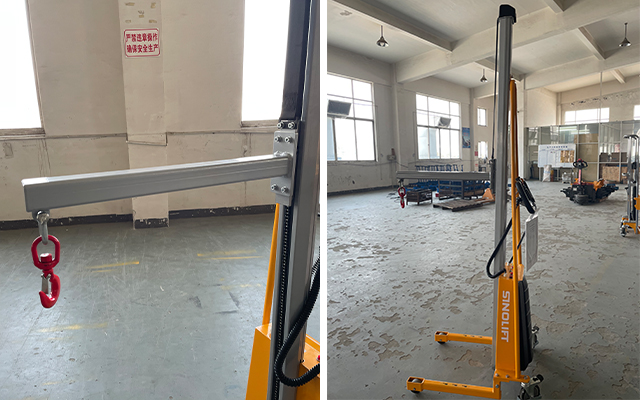 We are proud to have delivered countless standards and customized reel lifting and roll handling solutions to many different branches both within the converting industry as well as other fields of production and manufacturing:
Pulp and Paper

Print

Textile

Packaging

Pharmaceutical / Medical

Food and Beverage

Manufacturing
We Thoroughly Analyze Your Roll Handling Needs Before Building Your Roll Lifting Equipment. If you need any help or have any question, please don't hesitate to contact us by e-mail: sales@sinolift.com.