News and Events
Contact Us

SINOLIFT MATERIAL HANDLING EQUIPMENT CORP.
Add:No. 2471-2477 Dachuan Road, Nanhui Industry park, Pudong new District, Shanghai, P.R.China 201314.
Tel:021-68014500 58003681
Fax:021-68014262
Email:sales@sinolift.com
Website:www.sinolift.com
Contact Person:Mr. David deng
Mobile:0086-13817572420
Skype:sinolift
What are tow tractor and how do they improve transportation?
Author:Iris Post Time:2023-3-1 Hits:194
2 UNITS tow tractor will be sent to domestic customer. SINOLIFT has unveiled a tugger train system that addresses the specific requirements of industrial customers, transporting material over longer distances efficiently, safely and flexibly.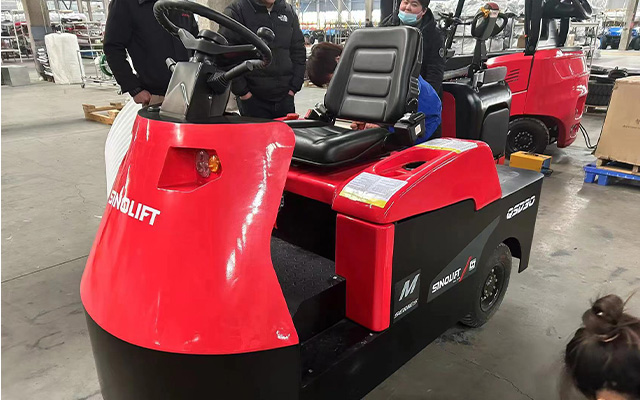 Tugger cart systems work almost identically to real trains, but on a small, focused scale just right for your operation. The train itself has a powered tugger operated by a person (like a locomotive) that tows a connected train of several non-powered carts.
The SINOLIFT tugger train is available as an all-in-one solution. It consists of the SINOLIFT QSD30 towing tractor with a towing capacity of 3T trailers. Train systems are one of the first improvement steps to get away from using forklifts for lineside material movement. They work as a part of a system to exchange materials and information between the production area and the warehouse area.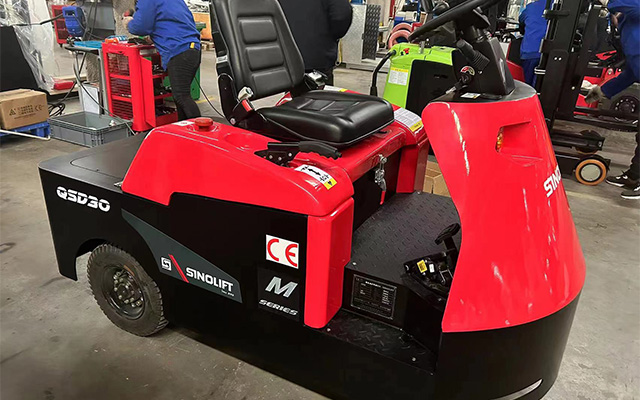 Different cart styles can be used in a train system – standard carts, mother-daughter cart systems, corral cart systems, and automatic exchange systems – but they all fulfill the same basic function.
Critical parts to pay attention to in a train system are the tow package (tow arm and connecting hitch), cart base (designed for towing, with aisle width and weight capacity in mind), cart top hat (when moving totes, boxes, and / or parts), and casters (specified for high speed towing).
How do they work?
Both tugger cart and forklift deliveries move materials and information. The differences in how often, how much, and the movement direction create a clear distinction between the two approaches.
Forklift delivery moves a large quantity of a single part, very infrequently (because the quantities moved each time are large), usually in a "push" direction from the warehouse to production.
Tugger cart delivery moves small quantities of many parts, very often (because the quantities moved each time are small), usually in a "pull" direction between the warehouse and production.
The tugger follows a standard path with stops along the way to exchange material, then proceeds to a replenishment area to then make the same route again. This standardization of material flow follows the same idea as the standardization of the production process.
Where can tugger cart systems be used?
Tugger cart systems are used successfully in almost any manufacturing, distribution, or logistics environment. The three key areas for a train system to function (replenishment, delivery, and lineside) will look different in each of those operations but the principle is the same.
There are three critical areas for a cart system to work well:
Replenishment area
This can be called the warehouse, supermarket, kitting area, or anywhere else product is prepared to be delivered to operators. There needs to be a very clear and strong information link between the lineside area and the replenishment area so that the tugger cart is loaded with the right materials to supply production.
Delivery aisle
The delivery aisle itself forms the path that the train will follow on its route, but is often a traffic area shared by trains and people and needs to be well planned. People have thousands of years designing standard traffic intersections and still do it poorly, so don't take well-planned delivery aisles for granted.Understand the area needed for vehicle traffic and people. Force delivery traffic into a single lane traveling one way only. Create visual, bright signage visible for tugger drivers and walking pedestrians.
Lineside staging
The lineside staging area is a zone between the operator's workspace and the delivery aisle. It's not always a simple rectangle, but there should be a buffer zone between the operator and the train route. This is for practical purposes for standard work in process quantities and material presentation, but also to provide safety for the operator so they are not disturbed by the traffic. Lineside staging usually takes the form of flow racks or flow chutes, but cart staging lanes are also used for large parts or kit carts.